A month by month checklist, showing how often we see the main species. The checklist can also be found on-board Seabird with colorful pictures on the reverse side of all the different species listed below. This is made up on A4 laminated sheets and a copy available for everyone, as well as cetecean identificatin charts for all. Each of the guides are also available in Braille format.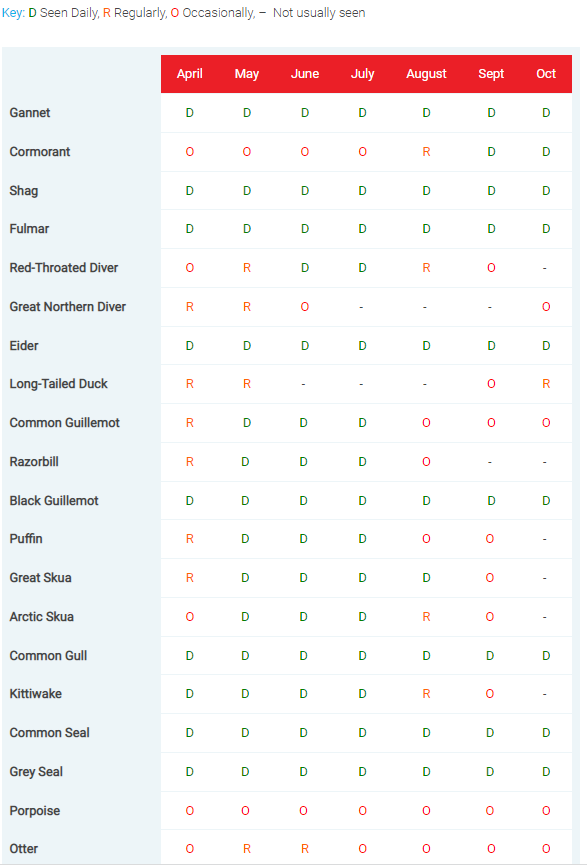 Note: To be sure of seeing puffins, guillemots and razorbills, come to Shetland before the end of the first week in August. After that they disperse to the open sea, not returning inshore in any numbers until April.
There are gannets, eiders, shags, black guillemots, fulmars, seals and various gulls, waders and sea ducks around all winter.
But words can't do justice to the unforgettable sights, and sounds (and smells!) of this extraordinary bird city. Noss is one of the most accessible seabird colonies in the World – particularly in a boat like Seabird.
Once you've been there, you'll always want to return. We look forward to welcoming you on board.
---
Underwater Viewing
This is only available on our 3-hour tour and weather permitting.
This underwater world used to be Shetland's best-kept secret, known only to a few hardy scuba divers. But now you don't have to get cold and wet to see it.
Our 3-hour minimum boat trips include underwater viewing with a remotely controlled tethered mini-submarine, 'LOMVI' (Lowered Overboard Marine Viewing Instrument). A camera on the submarine feeds live colour video images onto two display screens in the cabin.
The techniques we've pioneered and perfected since 2001 enable us to give you a unique and unforgettable show of the teeming sealife below the surface of The Shetland Sea.
Lights on the underwater camera reveal the astonishing colours and variety of this marine wonderland. It's not dark and grey down there after all – it's a Technicolor riot of biodiversity.
Early and late in the season the underwater visibility can be astounding here, in one of the most productive seas on Earth.
In summer there's usually a thick fog of plant plankton with "snowflakes" of animal plankton grazing on it. In a glass-bottomed boat you'd see only a few metres into this "life soup" but with the remotely controlled camera we can steer in close up and see everything in astonishing detail.
Shetland's secret forest and coral reefs
Diving between 10 and 25 metres down, we discover rocky reefs, boulder-strewn gullies and Shetland's secret forest – the vast beds of waving kelp fronds that are home to hundreds of species.
We swim the camera inside shipwrecks, caves and along submerged cliff faces for extraordinary views of the teeming sealife – including zooplankton, sea urchins, crabs, comb jellies, soft corals, sea anemones, sea mats, and colonies of other strange and ancient animals that look like plants but can survive and thrive in total darkness
Large fish such as pollack and wrasse cruise by. Sometimes guillemots put on an underwater flying display for us. And we often meet the ever-inquisitive seals – which will occasionally swim up and nuzzle the mini-submarine.
Ready for the highlight of your Shetland experience?