Superb 5-Star Widlife Boat Cruise
Around Bressay & Noss
2 HOURS PLUS
FARES:
Adults £60 Under 16's £30
(Includes Refreshments)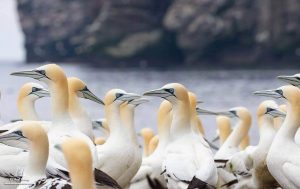 TOUR START TIME & HOW TO BOOK:
Weather permitting from April through to October, we operate this tour seven days a week and always three different tour start times running throughout the day, sometimes four due to demand as our tours are extremely popular. To find out our different tour start times, please view our online calendar by clicking on 'Book Now'. Once you have decided which tour you would like to join, you can book/pay online using our easy-to-use online booking system which accepts debit, credit card or paypal. Alternatively you can contact us directly and we will get you booked on. If you book online you will receive a full booking confirmation, if for any reason you do not receive this – please let us know so that we can investigate.
We ask please that you arrive promptly at the tour start time advertised on our booking calendar, preferably slightly before to maximize your time at sea. We like to depart as soon as we have done our warm welcome and the all important safety briefing.
DEPARTING FROM:
Victoria Pier, Lerwick, ZE1 0EL
TOUR DURATION:
All our daily tours are TWO HOURS PLUS with refreshments included. Our tour duration gives you plenty of wildlife and photography opportunities with fabulous onboard facilities, offering very good value for money.
TOUR FINISH TIME:
Our tours generally last up to 2 1/2hrs, but we never know exactly what we'll find on our excursions, so we do sometimes return a few minutes late. If you have to be back exactly on time, to catch a ferry, a plane or a bus or for any other reason, please let us know at the start of the trip and we'll make sure to dock on schedule.
Introduction
In the interests of our passenger safety, comfort and welfare, we always have minimum two crew accompanying every tour, this also gives you a MUCH richer experience and makes sure you have an unforgettable tour with us. Our business has taken thousands of visitors to Noss since 1992 and our experience and knowledge of the sea, nature and local heritage is unrivalled, we are consistently ranked NO.1 on the review site Trip Advisor. During the tour Marie provides live commentary using our PA system, each passenger receives their very own handset/earphones when they step aboard and the commentary can be heard wherever you are located on our spacious catamaran, the sets are fully sanitized between tours. Having your own receivers gives that personal touch and to enable you to hear everything that is being shared by your expert guide(s). Marie gives you her full attention throughout and with her great knowledge on the wildlife, geology, local history, landmarks and so much more – she is happy to answer any questions you may have and to ensure you are having an enjoyable experience.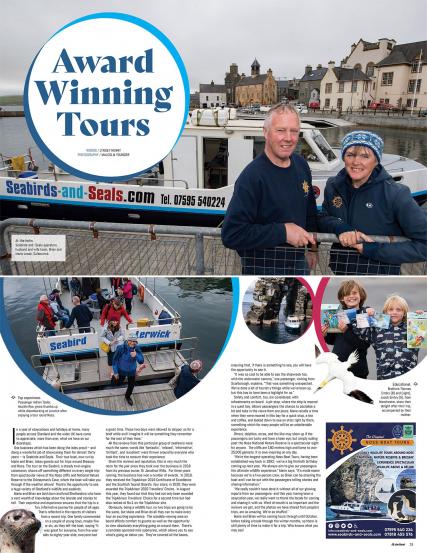 The Tour
The tour takes you right around Bressay & around the cliffs of the famous Noss National Nature Reserve. Our trip to Noss is an amazing wildlife spectacle and allows you to enjoy Shetland's plethora of seabirds and seals, as well as spectacular views. We'll take you unbelievably close to the awe-inspiring sights and sounds of this extraordinary seabird metropolis, which is home to 25,000 Northern gannets, as well as thousands of guillemots, black guillemots, puffins, razorbills, gulls, shags and skuas. You will come eye-to-eye with beautiful blue-eyed gannets and immerse yourself in the unforgettable clamour of a thousands-strong 'choir' or different bird calls – a sound you'll never forget. Superb opportunities to see and photograph Shetland's wildlife against the stunning backdrop of the 181-metre-high Noss sandstone cliffs. We bring along fresh fish to give you a guaranteed opportunity to see gannets encircling and diving right alongside our boat.
Keep your fingers crossed & your eyes peeled – no guarantees but If you're extremely lucky, you might even see Orca, Minke Whale, Porpoises, dolphins or otters. Every trip with Seabirds-and-Seals is unique as always something different to see along the way and will hopefully leave you with many happy memories of Shetland.
Along the way, Brian and Marie will regale you with history and folk tales, and share their great knowledge of Lerwick's beautiful harbour, the Bressay Lighthouse, the Orkneyman's Cave, the magnificent giant's leg, the geology of Bressay, local history and much more. When sea conditions allows the tour takes you right into the beautiful Orkneyman's Cave and sail through the Magnificent Giant's Leg Archway – which is always a WOW with our guests. Click on our photo gallery to view many more fabulous pictures from our tours – each gives full details of the different wildlife and places we take you.
After your trip around the cliffs of Noss, we anchor in a tranquil little bay, which offers plenty of wildlife & photography opportunities. We provide fairtrade fresh filter coffee/tea, hot chocolate, juice and a selection of biscuits (including gluten-free). If you or anyone else in your party has any other dietary requirements, just let us know when making your booking with us. You can do this when booking online by adding a note in the 'Special Requirements' section or if booking direct with us or another party, please be sure to let us know and we will be sure to cater for your needs. If celebrating a special occasion, please do let us know as we will push the boat out for you (pardon the pun). This stop is always a great highlight and an opportunity for all aboard to have a chat whilst enjoying a refreshment and soaking up the beautiful surroundings. If your phone battery runs low after all the photo taking, we can assist as we have USB charging points throughout the cabin.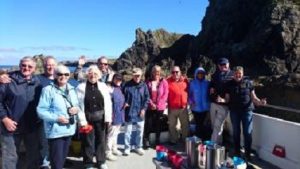 Family Friendly
Our tours are extremely family friendly with plenty to keep our younger sailors entertained. We have onboard kids activities and challenges set by Skipper Brian. Each young sailor receives a FREE sea life activity pack to take home.
The Noss Boat 'Seabird'
'Seabird' is licensed to carry 12 passengers and because she's a catamaran – a very stable twin-hulled boat. There's a very wide and spacious viewing platform all on one level so you can enjoy 360° panoramic viewing without having to watch where you step . This is the ideal boat for the best photographic opportunities, with room to sit, stand or move around without being confined to your seat or in one space – free as a bird! There's seating on deck for all, but if you prefer to be inside our heated saloon you'll still have panoramic views. You can sit around the cabin table to chat, or browse our small but informative ship's library. There's also dry storage space inside the cabin where you can securely stow any baggage and belongings, accessible at all times throughout the trip. We have an accessible toilet on deck level and equipped with hand sanitizer, hygiene bags etc. Always reassuring to know there is easy access to a toilet on-board and especially after those welcoming refreshments.
Wheelchair accessible onto the boat and ideal boat for anyone with mobility issues, just let us know your requirements prior to booking and we will be happy to assist you. If wheelchair users wish to access the toilet or cabin, they must be able to transfer as the doors are not wide enough. For further information, please check out our published Accessibility Guide.
Meet The Crew
Marie, Brian and Marvyn are all Shetland born and bred, our experience/knowledge of the sea, nature and the local heritage around us is extensive. Passengers tell us our fun, personal and engaging style appeals to all ages and varying interests.
Our continuing success, is reflected in our fantastic TripAdvisor & Google Reviews, complementing each other's experience, skills and talents. We make a fabulous team, providing a highly informative, fun and fascinating tour, from start to finish showing you the best of Lerwick Harbour, Bressay & Noss.
Ever since the business started 31 years ago, it has built up a very good reputation as a top wildlife tour with many very knowledgeable crew. We are delighted to keep on many of the same relief crew that Jonathan had, with three new additions, our most recent being our relief skipper Marvyn.
We are very excited about the future, this year we celebrate 31 years of the business as it has had 31 continuous years of trading as 'Seabirds-and-Seals'. We look forward to welcoming many passengers on-board The Noss Boat Seabird.
You can find out more about us and our relief crew members by clicking on here

Tour Cruising Map
The map below shows our cruising area, but the tour can change from day-to-day depending on the wind speed and direction – we always steer our course for the most sheltered water. Our tours are very much weather dependent, that's why when booking we advise not leaving it until your last days in Shetland and we also ask for you to provide a contact number so that if we do need to cancel, then we can try and get you re-booked onto a different day/tour.
If sea conditions prevent us getting you out to Noss during your time in Shetland, we are sometimes available for wildlife-filled inshore trips to look at the urban wildlife so prevalent in Lerwick Harbour – like a bespoke tour just to watch seals…. If Sea conditions allows on the day – we can showcase what the South coastline of Bressay has to offer, such as Bressay Lighthouse, Orkneyman's Cave, Magnificent Giant's Leg Archway and share all our knowledge on Lerwick's beautiful harbour. After viewing all that's above, we can launch our ROV mini submarine and show you a variety of sealife below whilst having a refreshment.
Please note – the underwater viewing is not available if we get out to Noss, only if we take you on the alternative tour if unable to get you out to the Noss cliffs during your time in Shetland.