Brian & Marie Leask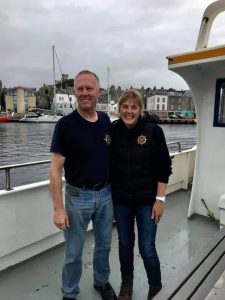 We are a Natural Shetland born and bred couple, our experience/knowledge of the sea, nature and the local heritage around us is extensive. Passengers tell us our fun, personal and engaging style appeals to all ages and varying interests.
Thirty (30) years on, Seabirds-and-Seals remains the original and longest-established Noss Boat Tour Business after Naturalist and former Skipper Dr Jonathan Wills – founded the award-winning enterprise in 1992. Skipper Brian has been actively involved with the business ever since it began and in 2017, along with his wife Marie, they bought the business from Jonathan, maintaining the business ethos and reputation as the Original – and Number One – Noss Boat tour business.
As with any business takeover – a new series of TripAdvisor and Google Reviews started in our first season (2018) – all were extremely positive and show how popular our tours are. After just one full season, we were awarded the Scottish Tourist Board's 4-Star distinction and TripAdvisor's Certificate of Excellence. Our tours consistently generate great reviews, leading to TripAdvisor's Travellers' Choice Award every since 2019. In November 2021, we were awarded Winners of 'Scotland's Best Wildlife Boat Tour Company' at the Scottish Enterprise Awards. In August 2022 we were awarded 'Boat Tour Operator Of The Year – Scotland' at the Scottish Enterprise Awards. In September 2022 we were awarded 'Best Wildlife & Photography Boat Tour Company – Scotland' at the UK Enterprise Awards. We are both proud to be keeping up the many awards Seabirds-and-Seals has historically received.
We both have extensive seafaring experience. We sailed our own yacht from Shetland to the Mediterranean, spending time in various ports for over two years. This was a truly magnificent experience but we are glad to be home, sharing our passion to our many visitors and locals.
Brian also has extensive experience as a marine engineer, running his own successful business for many years. He has always taken pride in his work and was in high demand amongst local boat owners. He continues taking pride in his new business, Seabirds-and-Seals, and is delighted to have Marie on-board.
In addition to his MCA Workboat License, which he has had for many many years, Brian has all the other necessary licenses required to operate. He is a very experienced Shetland skipper operating around Bressay & Noss. He has a wealth of knowledge about local waters, which can only be gained through a lifetime's experience, making him a very safe and most dependable tour skipper. With his qualifications, experience and masterful boatmanship, Brian is in perfect place at the helm.
We both have our Basic Sea Survival and First Aid at Sea qualifications, so you're guaranteed the best, safest and most comfortable trip possible in any given sea conditions.
Along with guiding/crew duties throughout the very busy season, Marie is also responsible for the admin side of things. A natural and enthusiastic organizer, she keeps the business running smoothly. She takes all bookings & enquires and keeps social media listings updated, certainly has some stamina and does everything with great passion. Previously, Marie worked as a School Librarian – she's an avid reader and is always looking to add more information to the tour, making it fun, varied and interesting for all ages. She has also worked as a Learning Support Worker and Social Care Worker in various settings for diverse clients and from her various care working roles, she has various different qualifications, including disability awareness training. Marie has completed Climate Emergency Training For Tourism as well as completing destination development and leadership programme through Edinburgh Napier University. Her people skills certainly come to the fore on-board Seabird. Marie absolutely loves being a tour guide, her enthusiasm, humour and wide-ranging knowledge – from wildlife and geology to local and natural history and landmarks – are a joy on every tour.
Both make a fabulous team: both passionate about their business; always up for fun; and are friendly and welcoming to all passengers, making a nice relaxing feeling for all aboard. Our tours continuing success, is reflected in the many fantastic TripAdvisor & Google Reviews, and is no surprise: complementing each other's experience, skills and talents, providing a highly informative, fun and fascinating tour, from start to finish.
Both are very excited about the future, this year they celebrate 30 years of the business as it has had 30 continuous years of trading as 'Seabirds-and-Seals'. They look forward to welcoming many passengers on-board Seabird.
When we are not doing the tours, we love to spend quality time with all our family and five fabulous grandchildren!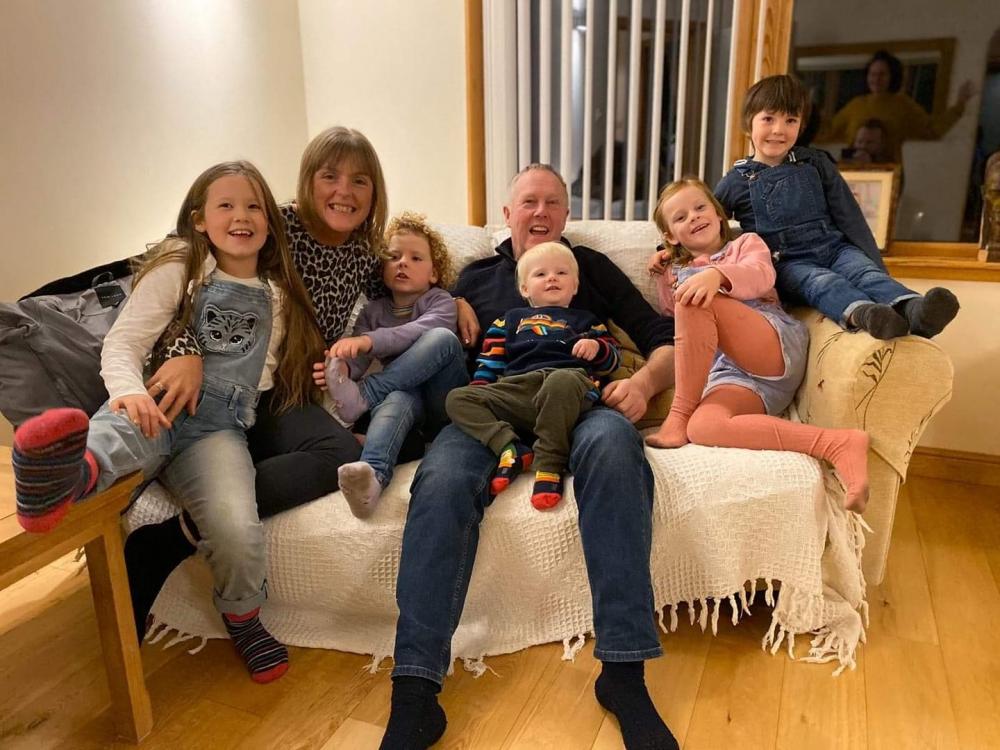 ---
Dr Jonathon Wills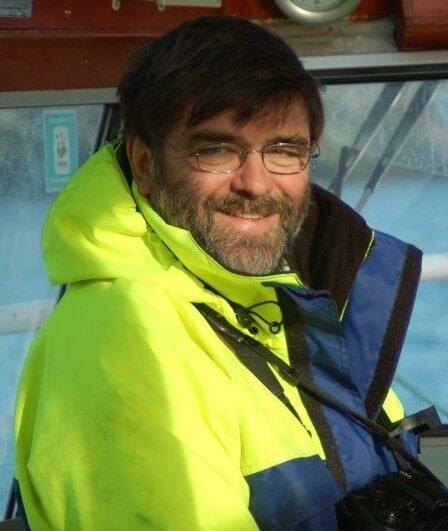 Jonathan has been birdwatching in Shetland since childhood holidays. Jonathan started up award-winning business Seabirds-and-Seals in 1992 and sold the business to Marie & Brian Leask in 2017 when he was still trading as Seabirds-and-Seals. He fully retired in 2018, confident of many more years of Seabirds-and-Seals' success with Marie & Brian.
Jonathan continues to be supportive, occasionally making a trip to Noss as a guide onboard Seabird. In 1970, he was the first warden of Noss National Nature Reserve. He's a former boatman to the Muckle Flugga Lighthouse and wrote his Ph.D. on the historical geography of Shetland. He has served for many years as a local councillor. He's written several books, including children's books. His most recent book, Seabirds-and-Seals, is well worth a read and copies available to purchase onboard Seabird, as well as our online shop.
---
Laurie Goodlad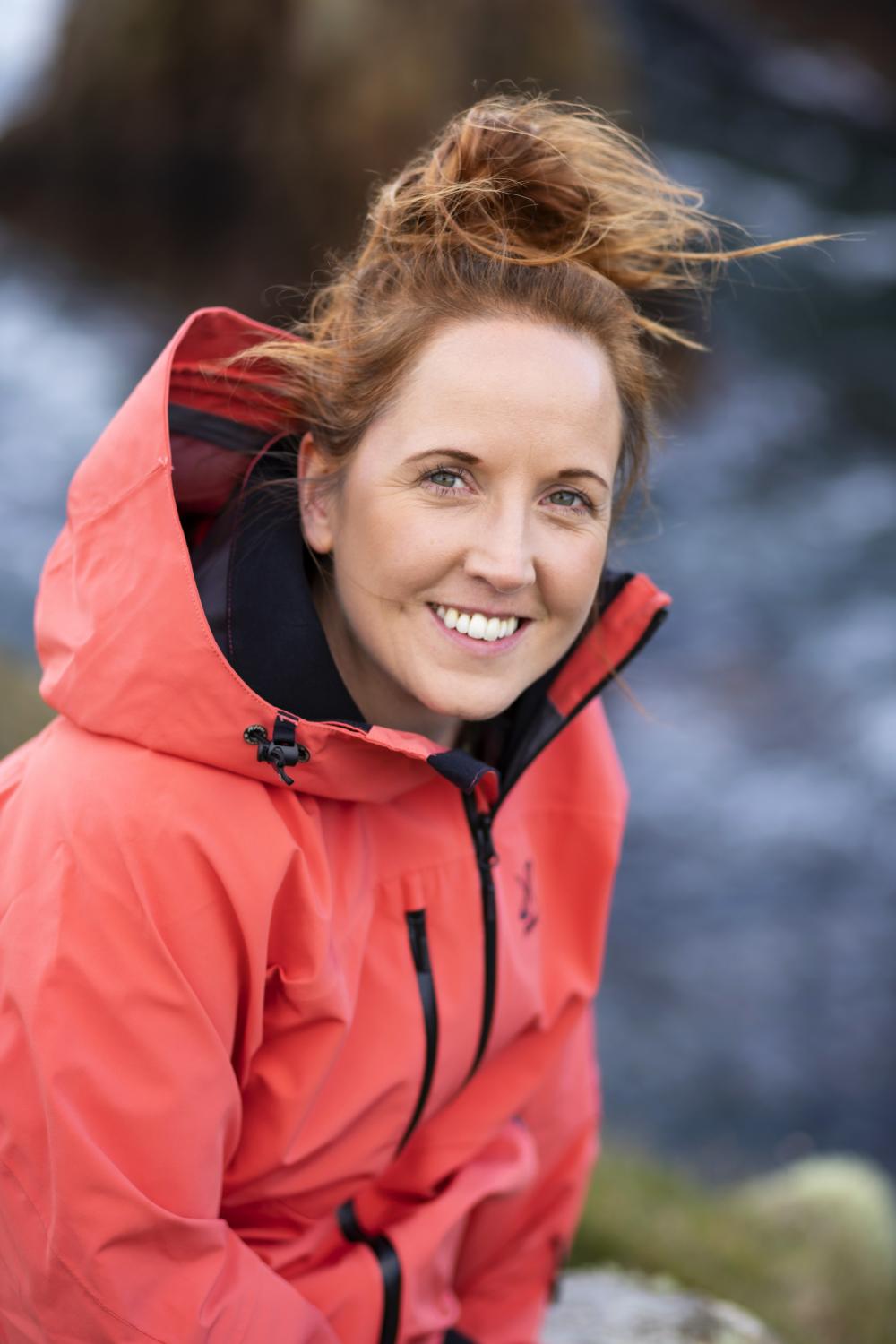 Laurie Goodlad sometimes joins us on our tours to work as crew/guide. Laurie is a writer and accredited green badge tour guide who has a passion for Shetland's history, wildlife and culture. Born and brought up in Shetland, she has a great knowledge of the people, place and wildlife that make Shetland such a memorable place to visit. Laurie also writes a lively blog and hosts a podcast dedicated to Shetland. As the daughter of a fisherman, she knows her way around a boat and doesn't turn green at the gills on a course day!
---
Ross Gordon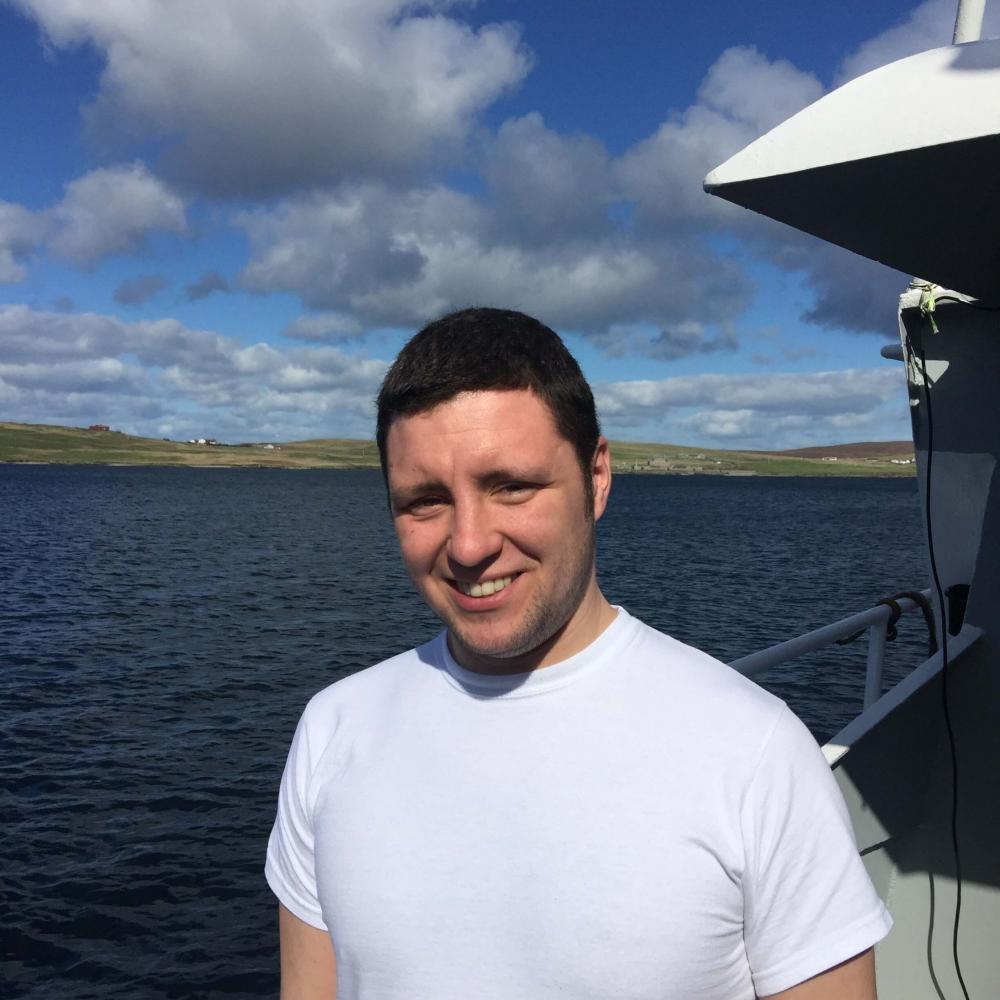 Ross can take command of Seabird when Brian has the occasional day off. Ross, originally from Edinburgh, is a member of the Bressay ferry crew and holds a pilotage certificate for Lerwick Harbour and Bressay Sound.
---
Kaylee Stevenson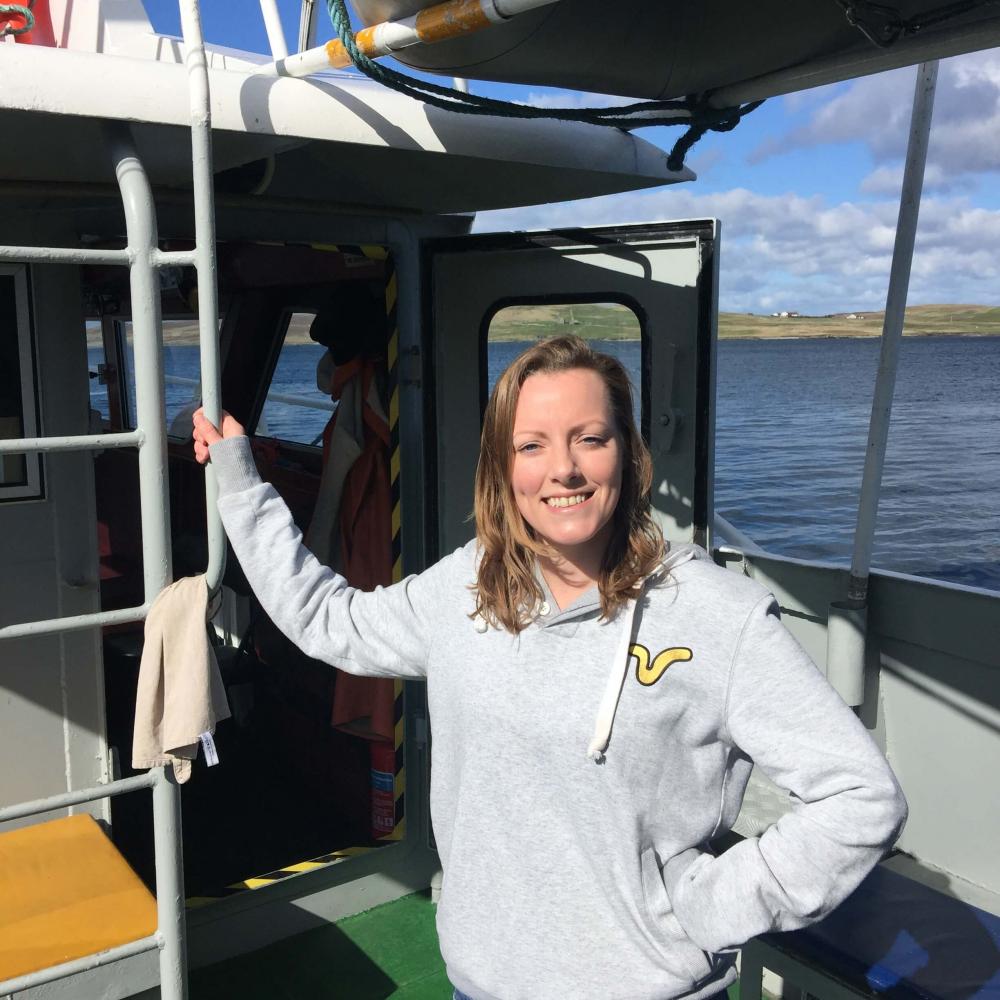 Part-time guide and deckhand Kaylee Stevenson is from Lerwick. She is a local Coastguard officer and a qualified Royal Yachting Association instructor with lots of experience in looking after passengers. She worked on yacht flotillas in Greece before returning to Shetland to put her powerboat certificate and people skills to good use on Seabird.
---
Iain Derbyshire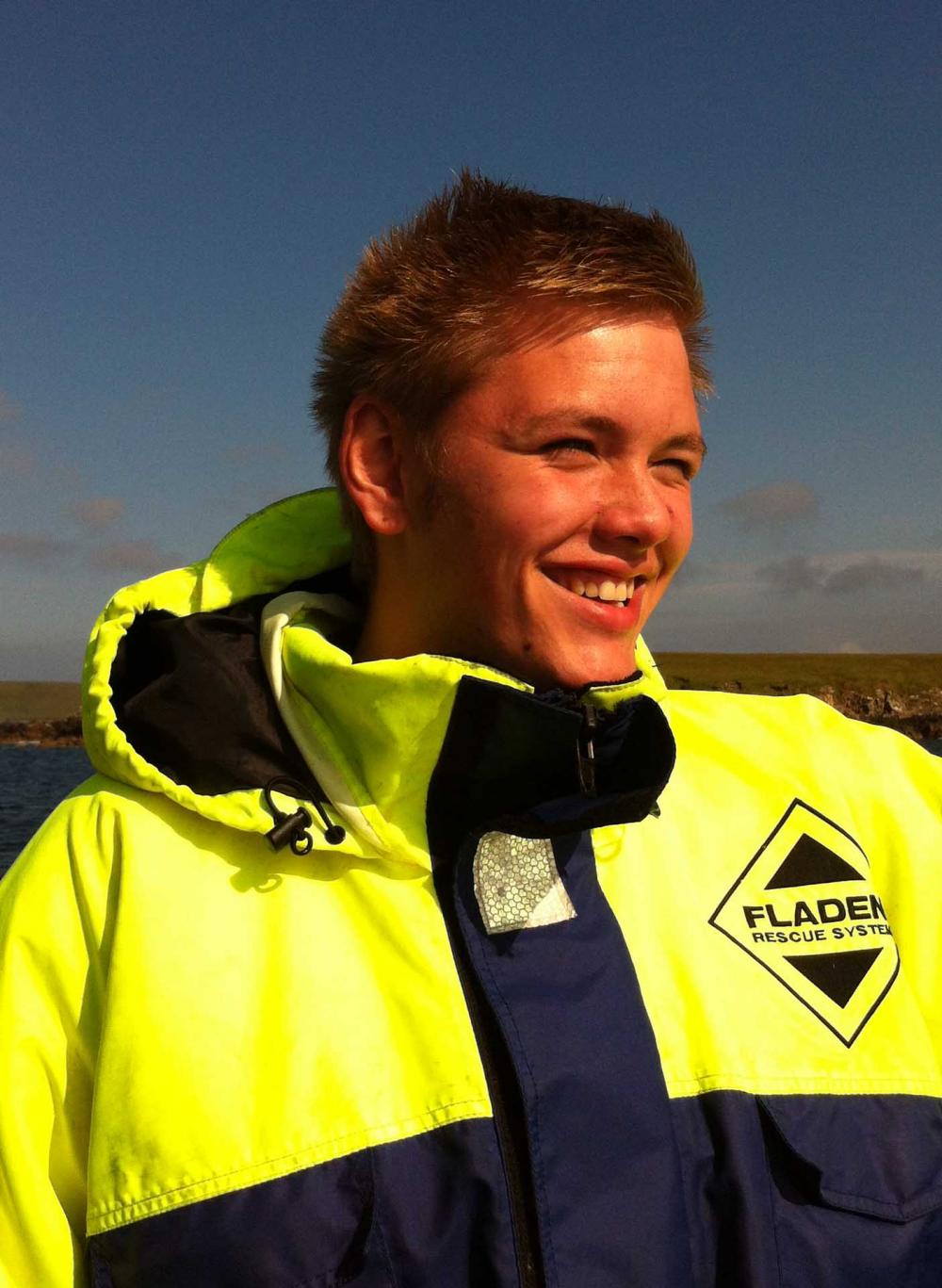 Occasional deckhand Iain Derbyshire, from Lerwick, helps out during leave from his main job as a 'deep sea' merchant seaman. He's also a volunteer lifeboatman.
---
John Dunn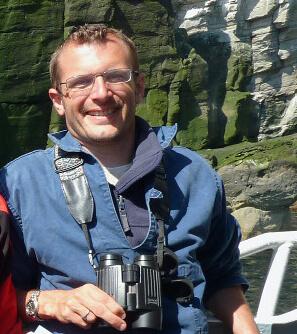 Wildlife tour leader, writer and photographer Jon Dunn sometimes joins us on our tours to work as crew and wildlife guide. Author of the "Britain's Sea Mammals" field guide, he's passionate about birds as well as blubbery mammals, and can't get enough of sharing them with visitors to Shetland.