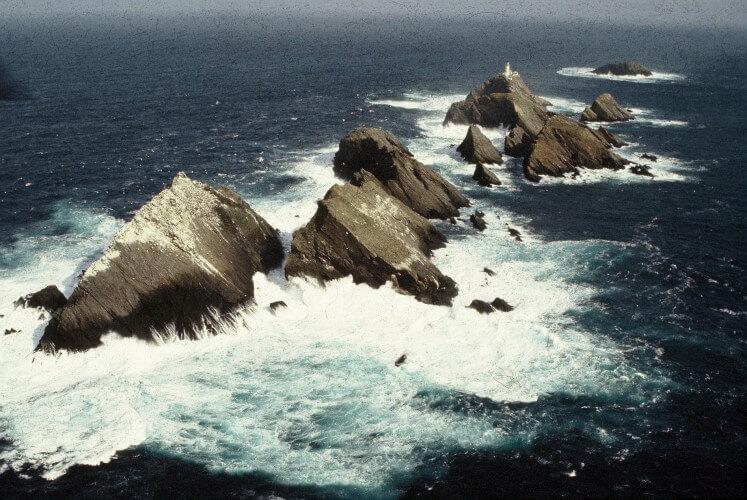 Seabirds-and-Seals is based in Shetland, a group of rugged islands 100 miles north of Scotland and 200 miles west of Norway – lying across the line of latitude of 60 degrees north.
We have provided travel links below to get to Shetland and the further you read on, you will find links to events that take place throughout the year. To help you it's worth clicking on here to plan your visit to Shetland.
When planning your visit and you decide to book one of our popular 4-Star wildlife tours – you will find our departure location by clicking here.
White nights and wild winters
At this latitude we enjoy the "white nights" of summer, when the sun just dips below the northern horizon for a few hours and it's never really dark between mid-May and mid-July. In midwinter the sun hangs low in the southern sky for six hours or so and on dull days we have to switch the lights on at noon.
Although we're so far north we have a temperate climate, kept mostly above freezing in winter by a little leftover warmth from the North Atlantic currents.
The weather can be boisterous but it's never boring as we live in the track of Atlantic depressions that bring us frequent winter storms, interspersed with magical calm days and dramatic cloudscapes. Some mornings it feels as if we've experienced all four seasons within 24 hours!
A jigsaw puzzle of islands
There are more than 100 islands. Only 15 are inhabited, by a total of about 23,000 people, most of them on the biggest island – confusingly called 'Mainland' – and on some smaller isles connected to it by bridges. About 4,000 live on the outer isles, served by ferries.
Shetland's industries include oil and gas, fishing, fish- and shellfish-farming, fish processing, tourism, livestock rearing, knitwear, crafts, quarrying, wind power and recycling.
The land area is only 567 square miles but the shape of this ancient range of drowned** hills is so convoluted that Shetland has an amazing 1600 miles (2560 km) of coastline. It's incredibly varied, with everything from sand dunes and salt marshes to sheltered inlets (known as 'voes') and some of Europe's highest cliffs.
Seabirds Galore
These spectacular cliffs, with their huge colonies of birds, are Shetland's top wildlife attraction. One of the biggest and most accessible seabird cities is at the 711-acre island of Noss, three miles east of Lerwick, where as many as 60,000 birds crowd a mile of cliffs up to 600 feet (181m) high. Seabirds-and-Seals has run boat trips to Noss since 1992.
Shetland also has large colonies of grey seals and common (or harbour) seals, an estimated 900-1,000 otters, some unusual botany, about 200 square miles of kelp forest and hundreds of beautiful caves. You don't have to get wet to see Shetland's underwater wildlife – just join a Seabirds-and-Seals cruise and we'll show it to you with a colour video camera mounted on our remotely-controlled mini-submarine.
For fantastic images of Shetland's wildlife, have a look at Hugh Harrop's (founder of Shetland Wildlife) photo blog here.
The back of beyond but near at hand
The county town is Lerwick (pop. 8,000), on the east coast, midway between Fair Isle and the Muckle Flugga lighthouse. Lerwick is Shetland's commercial centre and the port for Northlink's nightly passenger and car ferry sailings to Aberdeen and Orkney.
There are Loganair flights to Shetland from Edinburgh, Glasgow, Aberdeen, Inverness and Orkney, offering same-day connections with London and major European cities. Direct Flights operates inter-island flights to Skerries, Fair Isle and Foula.
Shetland Islands Council maintains over 500 miles of excellent roads and a network of fast, efficient vehicle ferries serving all the inhabited islands except Foula and Fair Isle, which have passenger ferries.
Accommodation for visitors is generally of a high standard and reasonably priced, ranging from serviced campsites and camping barns (or böds) to self-catering cottages, guest houses and hotels. In the peak season of mid-June to mid-August it's wise to book ahead – more details from the official Shetland tourism pages at Shetland.org.
Useful Links
Accommodation
You will find many Guest Houses, Hotels, B&B's and Self Catering accommodation via Shetland Tourism Association and also via ShetlandVisitor.org
Transport
Transport to and from Shetland is available via land or sea and you can find information on flights here and the NorthLink Ferry here.
Shetland is very well-connected with public transport and we would encourage visitors to use the public transport where they can. You can find the routes and timetables here.
If you happen to be visiting Shetland, or local already, and have your own vehicle then parking is available on the Victoria Pier. However, this can sometimes be closed due to visiting cruise ships, in which case you can find parking at the old swimming pool car park (Town Hall) or above the Morton Lodge No.89. Both are within 5 minutes walking distance of Seabirds-and-Seals.
Charging points are available throughout Lerwick. This includes the Victoria Pier, the old swimming pool car park and across from Morton Lodge No.89. You can find a full list here.
You can also rent both normal and electric bikes in Shetland. In Lerwick, you can rent bikes from the Community Bike Project. Rates can vary but it is typically £13 per day or £70 for the week! From Hillswick Shop, you can hire electric bikes for £15 per day or £75 per week.
Events
Shetland's event calendar is packed full of unique events throughout the year including the famous Up Helly Aa, Shetland Wool Week and Shetland Folk Festival to name a few. See a full list of events and dates here.
Visitor Attractions
Shetland has a vast number of visitor attractions to fill your days while you are here. We have everything from ancient volcanoes and Viking longhouses to breath-taking cliffs and fascinating visitor centres dotted all over the islands. There's something for everyone, both indoor and outdoor. You can see a full list here.